IQS269A
The IQS269A ProxFusion® IC is an 8-channel self/mutual-capacitive proximity and touch controller with best in class sensitivity, signal to noise ratio and power consumption. In addition, the device offers mixed sensing abilities such as Hall-effect and inductive sensing.  Other features include automatic tuning and differential offset compensation for sense electrodes.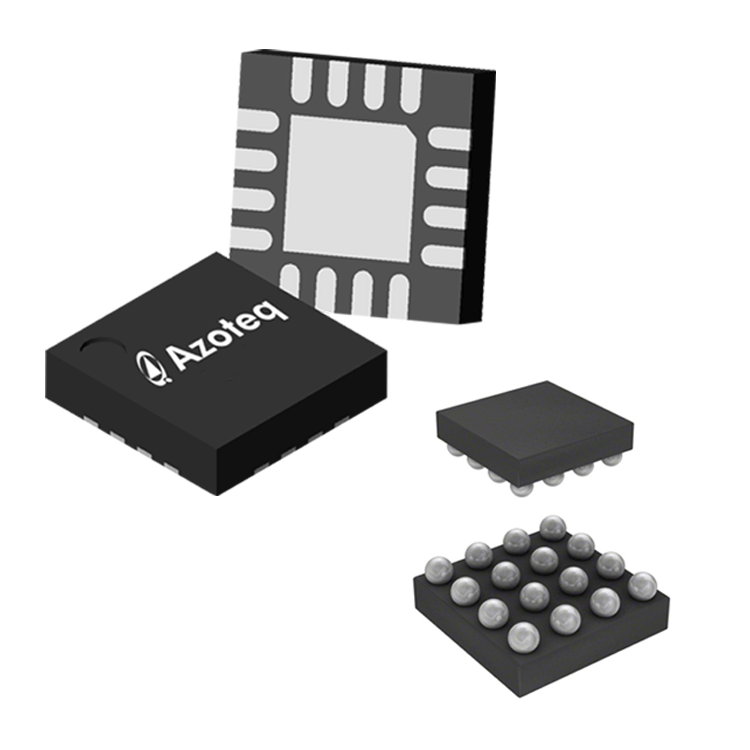 Features
Highly flexible 8-channel ProxFusion® controller
Each channel can be configured with connections to up to 8 external connections OR one internal option
8 external sensor pad connections:

Self/Mutual-Capacitive sensors
Self/Mutual-Inductive sensors
Dedicated reference sensor mode for environmental / mechanically sensitive designs

Internal sensor option:
Serial scanning (Single ProxFusion® engine) – up to 8 time-slots
Built-in basic functions:

Automatic tuning
Noise filtering
Differential measurements (reference channels)
Debounce & hysteresis
Dual direction trigger indication

Built-in user-interface options

Slider (up to 8 elements each) with co-ordinate output, flick/swipe/tap detection
Up to two sliders may be defined
Integrated measurement set for capacitance calculation

Wide Range of Capacitance Detection, Wide Electrode Range of 0 to 200 pF
Multiple custom signal level event triggers (e.g. proximity, deep proximity, touch, deep touch)
Capacitive resolution: down to 0.02fF
Automatic reference channel UIs for temperature and mechanical effects. Assign a reference channel to any single or group of sensing channels
Options for reduced RF emissions for integration in RF sensitive environments (wide range of charge transfer frequency options)
I2C Interface with IRQ (RDY) line
Event mode (including reduced interrupt options: blocking & hysteresis)
Assign a touch flag state of any channel to a dedicated GPIO (default: active low, open drain)
Dedicated address selection pin
Special pre-programmed options:

Standalone operation on power-up (low-power single button touch)
Active high output (push-pull)
Timed long-press output (pulse after 5 second touch)

Supply voltage: 1.8V (-2%) to 3.6V
Package options: QFN16 (3 x 3 x 0.8mm), WLCSP-16 (1.65 x 1.65 x 0.5mm)
Applications
True Wireless Stereo
SAR compliance in mobile devices
Wear detection
Multi-slider & button designs
Low power wake-up buttons / proximity
HALL dock detection
Let us help you implement your IQS269A.
If you don't believe us test it yourself.
Feel free to order us around.