IQS624
The IQS624 ProxFusion® IC is a multifunctional capacitance, inductance and Hall-effect sensor designed for applications where any or all of the technologies may be required. The two Hall-effect sensors calculate the angle of a magnet rotating parallel with the sensor. The sensor is fully I2C compatible and on-chip calculations enable the IC to stream the current angle of the magnet without extra calculations. The inductive sensing is suitable for the detection of metallic objects while capacitive sensing provides human touch and proximity detection.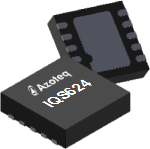 Features:
Hall Effect Sensor:

360° Output
1° Resolution, calculated on chip
Detect movement and the direction of movement
Relative rotation angle
Raw data: can be used to calculate degrees on external processor
Wide operational range
No external components required

Partial auto calibration:

Continuous auto-calibration, compensation for wear or small displacements of the sensor or magnet
Flexible gain control
Automatic Tuning Implementation (ATI) – performance enhancement (10bit)
Capacitive sensing:

Full auto-tuning with adjustable sensitivity
2pF to 200pF external capacitive load capability
Proximity / Touch
Proximity wake-up
Event mode
Wake Hall sensing on proximity
Inductive sensing

DK Electronics
Only external sense coil required (PCB trace)
Low power consumption:

240uA (100Hz response, Hall)
55uA (100Hz response, capacitive)
65uA (20Hz response, Hall)
15uA (20Hz response, capacitive)
5uA (5Hz response, capacitive)
Minimal external components
Standard I2C interface
Optional RDY indication for event mode operation
Supply voltage: 2V to 3.6V1
Applications:
Anemometer
Dial or Selector knob
Mouse wheel
Measuring wheel
Digital angle gauge
Speedometer for bicycle
Product Selection Guide:
| | | | |
| --- | --- | --- | --- |
| Options | IQS624-30x-DNR2 | IQS624-320x-DNR | IQS624-50x-DNR1 |
| Voltage | 2V - 3.6V | 2V - 3.6V | 2.4V - 5.5V |
| Software version | 1 | 2 | 1 |
| Interval UI | No | Yes | No |
| Advanced Degree Filtering | No | Yes | No |
| Advanced Wheel Wake-up | No | Yes | No |
| Hall Plate Calibration | No | Yes | No |
| I2C Configuration | No | Yes | No |
| Startup ATI Bug Fix | No | Yes | No |
| Extra Event Options | No | Yes | No |
1 5V Built on special request
2 Not recommended for new designs
Let us help you implement your IQS624.
If you don't believe us test it yourself.
Feel free to order us around.