IQS7222C
The IQS7222C ProxFusion® IC is a sensor fusion device for various multi-button applications. The sensor is fully I2C compatible and on-chip calculations enable the IC to respond effectively even in lowest power modes.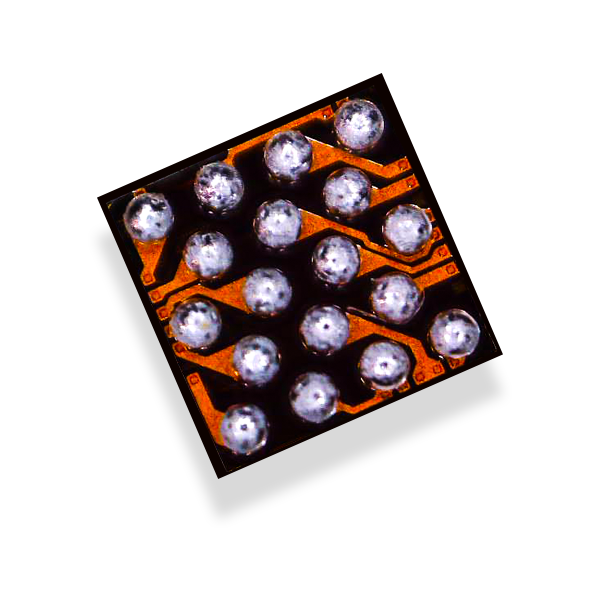 Main Features
Highly flexible ProxFusion® device
9 (QFN) / 8 (WLCSP) external sensor pad connections
Configure up to 10 Channels using the external connections
External sensor options:

Up to 8 self capacitive buttons
Up to 4 self capacitive wear detection pairs (with physical reference)
Up to 10 projected capacitive touch/proximity sensors
Up to 4 inductive sensor elements

Built-in basic functions:

Automatic tuning
Noise filtering
Differential measurements (reference channels)
Debounce & Hysteresis
Dual direction trigger indication

Built-in Signal processing options:

Slider output
Wheel output

Design simplicity

PC Software for debugging and obtaining optimal settings and performance
One-time programmable settings for custom power-on IC configuration
Auto-run from programmed settings for simplified integration

Automated system power modes for optimal response vs consumption
I2C communication interface with IRQ/RDY(up to fast plus -1MHz)
Event and streaming modes
Customizable user interface due to programmable memory
Supply Voltage 1.8V(-5%)to 3.5V
Small packages

WLCSP18 (1.62 x 1.62 x 0.5 mm) - interleaved 0.4mm x 0.6mm ball pitch
QFN20 (3 x 3 x 0.5 mm) - 0.4mm pitch
Applications
SAR Compliance in Mobile devices
Waterproof Buttons (Inductive)
Wear Detection
Low power Wake-up Buttons / Proximity
Appliance user interface (Sliders, Wheels & Buttons)
Let us help you implement your IQS7222C.
If you don't believe us test it yourself.
Feel free to order us around.