IQS7211E
The IQS7211E ProxFusion® IC is a capacitive touch and proximity trackpad/touchscreen controller implementation. The IQS7211E features best in class sensitivity, signal-to-noise ratio and automatic tuning of electrodes. Low power proximity detection allows extreme low power operation.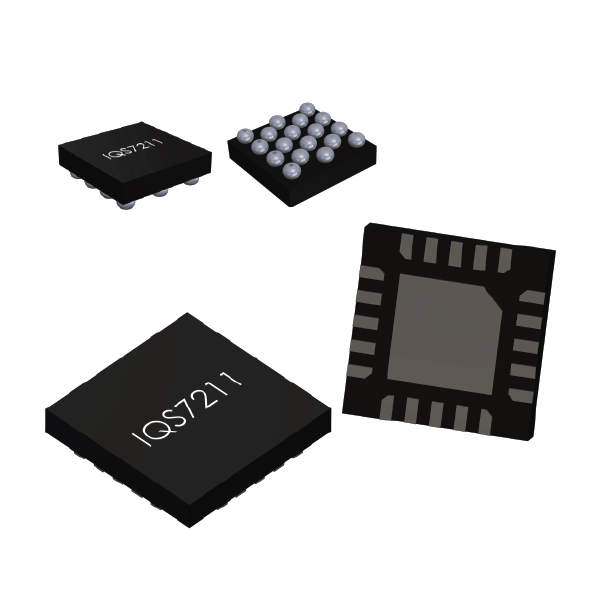 Main Features
Highly flexible ProxFusion® device
13 (QFN20) / 11 (WLCSP18) external sensor pad connections
Self-/Mutual-capacitive sensors configuration for display wake-up
ULP wake-up on touch

Dedicated Ultra Low Power wake-up touch sensor or
Wake-up on screen/trackpad

Sensor flexibility

Automatic sensor tuning for optimum sensitivity
Internal voltage regulator
Reference capacitor
On-chip noise filtering
Detection debounce and hysteresis
Wide range of capacitance detection

Trackpad/Touchscreen

Up to 2 fingers tracking
High resolution coordinate outputs
Fast response: Coordinate report rate up to 100Hz
Individual sensor touch
Integrated touch size output (area and strength) for touch integrity
Single finger gesture recognition engine
Electrode mapping for optimal PCB layout\
Configurable coordinate resolution and orientation
Compatible with wide range of overlay materials and thicknesses
Compatible with multiple 1-and 2-layer sensor patterns
Adjustable sensing frequency offset for limiting potential display interference
No calibration required - systems automatically compensated for mechanical & temperature changes
Water immunity features

Design and manufacturing support

Touch pattern layout drawing
Full FPC layout package (example & customised)
Test guide for touch pattern
RFI immunity design support

Design simplicity

PC Software for debugging and obtaining optimal performance
One-time settings programming (during MP) or pre-programmed devices
Auto-run from programmed settings for simplified integration
No production line calibration required

Display cover lens thickness

Minimum thickness: 0.5mm
Maximum thickness: 2-4mm depending on design parameters

Minimize display noise

Advanced DSP for touch performance
Display and charger interference avoidance
Auto adjusting digital filters

Supports different display touch panel types

On-cell
Add-on touch panel

Supporting up to 2.5" panels
Screen resolution

256 per channel
Example: 2048x768 (9x4 channels), 1536x1280 (7x6 channels)

Automated system power modes for optimal response vs consumption
I2C communication interface with IRQ/RDY(up to fast plus -1MHz)
Event and streaming modes
Customisable user interface due to programmable memory
Supply voltage

1.8V(-5%) to 3.5V @ 14MHz
Minimum 2.2V @ 18MHz

Small packages

WLCSP18 (1.62x 1.62x0.5 mm) - interleaved 0.4mm x 0.6mm ball pitch
QFN20 (3 x 3 x 0.5 mm) - 0.4mm pitch
Gestures
Single tap
Double tap
Triple tap
Press-and-hold
Swipe X+ (with continuous swipe configurable)
Swipe X- (with continuous swipe configurable)
Swipe Y+ (with continuous swipe configurable)
Swipe Y- (with continuous swipe configurable)
Swipe and hold X+
Swipe and hold X-
Swipe and hold Y+
Swipe and hold Y-
Palm (Flat hand)
Applications
Fitness bands
True Wireless Stereo (TWS) earbuds
Game controller touch pads
Headphones
Let us help you implement your IQS7211E.