IQS7225A
The IQS7225A ProxFusion® IC is a sensor fusion device that is mainly aimed at inductive sensing applications that require relative rotational inductive sensing and/or multiple inductive buttons. The device also has capacitive sensing capabilities that can be used to complement the inductive sensing applications, e.g. a capacitive wakeup channel. The sensor is fully I2C compatible and on-chip calculations enable the IC to respond effectively even in its lowest power modes.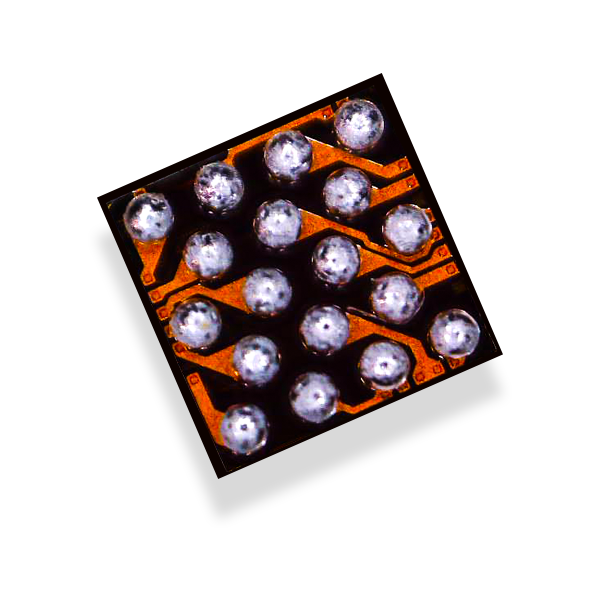 Main Features
Highly flexible ProxFusion® device
9 (QFN) external sensor pad connections
Configure up to 6 channels using the external connections
External inductive sensor options:

Up to 6x self-capacitive buttons
 Up to 6x mutual-capacitive buttons
Up to 6x inductive buttons

Built-in basic functions:

Gray-coded relative rotational encoder
Selectable channel reference

LTA as reference
select channel to use as reference
Fixed value as reference

Blocking channel
Automatic Tuning Implementation (ATI)
Noise filtering
Debounce & hysteresis
Dual direction trigger indication

Built-in signal processing options:

Rotational encoder angle
Rotational encoder counter
Rotational encoder state
PC software for debugging and obtaining optimal settings and performance
Auto-run from programmed settings for simplified integration

 Multi-level trigger implementation:

Adjustable number of trigger levels
Trigger event states

Design simplicity
Automated system power modes for optimal response vs consumption
I2C communication interface with IRQ/RDY (up to fast plus – 1 MHz)
I2C address selection using GPIO pin
Event and streaming modes
Customizable user interface due to programmable memory
Supply voltage range:

1.8 V to 3.5V (FOSC = 14 MHz)
2.2 V to 3.5V (FOSC = 18 MHz)

Small packages

QFN20 (3 x 3 x 0.5 mm) – 0.4mm pitch
Applications
Waterproof inductive dial/counter applications
Waterproof inductive buttons
Integrated control panel (dial + buttons)
White goods user interface
Wearables
Smart home controllers
Let us help you implement your IQS7225A.
Feel free to order us around.