IQS621
The IQS621 ProxFusion® IC is a multifunctional, ambient light sensing (ALS), capacitance, Hall-effect & inductive sensor designed for applications where any or all of the technologies may be required. The IQS621 is an ultra-low power solution designed for short or long term activations through any of the sensing channels. The IQS621 is fully I2C compatible.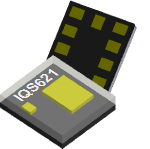 Features:
Unique combination of sensing technologies:

Capacitive sensing
Ambient light sensing (ALS)
Hall-effect sensing
Inductive sensing
Capacitive sensing:

Full auto-tuning with adjustable sensitivity
2pF to 200pF external capacitive load capability
Enhanced temperature stability
Ambient light sensing (ALS):

Absolute lux output
Human eye response compensated
4-bit ALS range output (0 - 10)
Dual threshold detection for day/night indication with hysteresis
Hall-effect sensing:

On-chip Hall-effect measurement plates
Dual direction Hall switch sensor UI
2 level detection (widely variable)
Detection range 10mT – 200mT
Inductive sensing:

2 level detection and hysteresis for inductive sensing
Only external sense coil required (PCB trace)
75uA (100Hz response, 1ch inductive)
95uA (100Hz response, 2ch Hall)
75uA (100Hz response, 3ch capacitive)
60uA (100Hz response, ALS)
20uA (20Hz response, 3ch capacitive)
2.5uA (4Hz response, 1ch cap. wake-up)
Multiple integrated UI options based on years of experience in sensing on fixed and mobile platforms:
Proximity / Touch
Proximity wake-up
Automatic Tuning Implementation (ATI) – performance enhancement (10bit)
Minimal external components
Standard I2C interface
Optional RDY indication for event mode operation
Supply voltage: 1.8V to 3.3V
Low profile UOLG - 2.8 x 2.5 x 0.6 - 9-pin package
Applications:
Mobile electronics (phones/tablets)
Home automation & lighting control
Wearable devices
White goods and appliances
Human Interface Devices
Aftermarket automotive
Let us help you implement your IQS621.
If you don't believe us test it yourself.
Feel free to order us around.