IQS550EV02
The IQS550-B000 is a complete trackpad solution including on-chip gesture recognition, flexible device setup and leading sensitivity management and adjustment. The IQS550EV02 uses a 13x9 diamond sensor pattern to detect user proximity and touch, identify finger position co-ordinates, and generate gesture outputs based on the finger interaction. With effective on-chip co-ordinate filtering, and advanced processing algorithms, the IQS550 provides reliable and stable multi-touch outputs. The sensor reports these outputs via standard I2C protocol to the master and is also fully configurable and programmable via this interface. The kit is intended to easily evaluate the IQS550 sensor IC by customers intending to do their own design, but it is also a mounted unit of Azoteq's standard TPS65 module, supplied in this case with an overlay material, mounting plate and break-out connector to the CT210/A. It is recommended to purchase the CT210/A or other suitable USB dongle with this kit.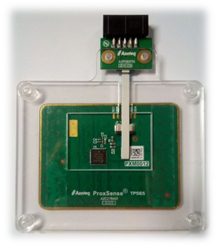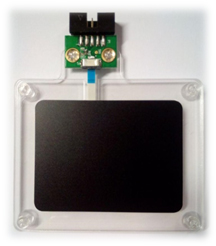 EV-Kit Overview
Capacitive sensing trackpad

High performance trackpad-module
Uniform diamond sensor pattern
Black Mylar overlay
Pre-configured plug-and-play module
Multi-touch coordinate and gesture outputs
Resolution configurable up to 3072 x 2048
Trackpad size 65mm x 49mm
Evaluation Modes
Connect to PC GUI via CT210/DS100 USB dongle1

Graphical visualisation of sensor performance and outputs
Adjust on-chip parameters and re-program according to custom requirements
Links for the IQS550EV02:
Datasheet:

View
IQS5xx-B000 PC GUI: Download
For more information on the IQS550-B000 trackpad product range: View

Touchpad videos:
1 Note: It is suggested to purchase the CT210x configuration tool (not included in this kit).
This dongle allows rapid evaluation of the kit by interfacing to the free GUI of the IC