IQS572EV02
The IQS572-B000 is a complete trackpad solution including on-chip gesture recognition, flexible device setup and leading sensitivity management and adjustment. The IQS572EV02 uses an 8x8 diamond sensor pattern to detect user proximity and touch, identify finger position co-ordinates, and generate gesture outputs based on the finger interaction. With effective on-chip co-ordinate filtering, and advanced processing algorithms, the IQS572 provides reliable and stable multi-touch outputs. The sensor reports these outputs via standard I2C protocol to the master (in this case the Arduino), and is also fully configurable and programmable via this interface.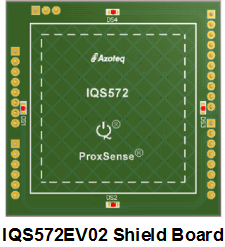 EV-Kit Overview
Capacitive sensing trackpad

Uniform diamond sensor pattern
2mm plexiglass overlay
Pre-configured plug-and-play module
Evaluation Modes
Connect to PC GUI via CT210 USB dongle1

Graphical visualisation of sensor performance and outputs

Shield plug-in for Arduino Uno2


Sensor outputs presented on serial terminal in Arduino environment
Open source code for custom development

Hardware compatible with ST Nucleo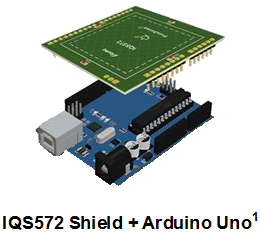 Links for the IQS572EV02:
Datasheet:

View
IQS572EV02 Arduino source code: IQS572EV02 Example Code
For more information on the IQS572-B000 trackpad product range on which the IQS572EV02 is based: View
1 Note: It is suggested to purchase the CT210x configuration tool (not included in this kit).
This dongle allows rapid evaluation of the kit by interfacing to the free GUI of the IC.