IQS624 Eval Kit 2
The IQS624 ProxFusion® IC is a multifunctional capacitance and Hall-effect controller designed for applications where any or all of the technologies may be required. The two Hall-effect sensors calculate the angle of a magnet rotating parallel with the sensor. The sensor is fully I2C compatible and on-chip calculations enable the IC to stream the current angle of the magnet without extra calculations.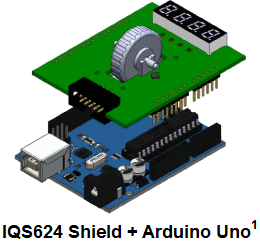 EV-Kit Overview
Hall-effect sensing

Wheel and magnet included

Capacitive sensing

Touch and Proximity embedded
Evaluation Modes
Connect to PC GUI via CT210 USB Dongle1

Raw info displayed in GUI

Plug into Arduino Uno1 or ST Nucleo1

Sensor info displayed on 7-segment
Open source code for custom development
Applications:
Anemometer
Dial or Selector knob
Mouse wheel
Gaming steering wheel
Measuring wheel
Digital angle gauge
1 Note: It is suggested to purchase the CT210x configuration tool (not included in this kit).
This dongle allows rapid evaluation of the kit by interfacing to the free GUI of the IC.
Demo Software: Download
Datasheet: Download

Video: View
ProxFusion® Pin-out Guide: Download