IQS622 Eval Kit 2
The IQS622 ProxFusion® IC is a multifunctional ambient light sensing (ALS), active IR, capacitance & Hall-effect sensor designed for applications where any or all of the technologies may be required. The IQS622 is an ultra-low power solution designed for short or long term activations through any of the sensing channels. The IQS622 is fully I2C compatible and can be configured to operate on an event mode basis to wake-up on dedicated sensors.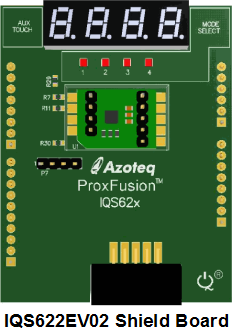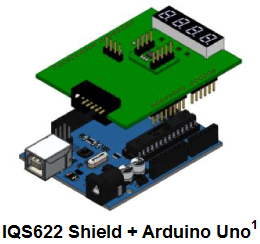 EV-Kit Overview
Hall-effect sensing
Capacitive sensing
Ambient light sensing (ALS)
Active IR proximity sensor
Evaluation Modes
Connect to PC GUI via CT210 USB Dongle1

Raw info displayed in GUI

Plug into Arduino Uno1 or ST Nucleo1

Sensor info displayed on 7-segment
Open source code for custom development

Embed the small module PCB (stamp) into custom design & interface to host MCU (Additional modules sold separately as IQS622EV01)
Applications:
Laptops, Notebooks, Mobile phones, Tablets
On-ear detection
Screen brightness adjust
Keyboard backlight adjust
Smart cover detection and orientation
SAR
Touch volumes controls
ProxFusion® Pin-out Guide: Download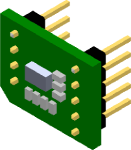 Detachable Stamp Module
1 Note: It is suggested to purchase the CT210x configuration tool (not included in this kit). This dongle allows rapid evaluation of the kit by interfacing to the free GUI of the IC.