IQS127 Evaluation Kit 2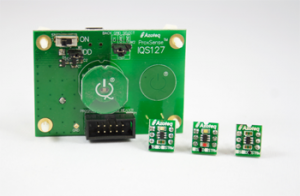 IQS127EV02 Evaluation Kit Features:
Modular design: Connect one of the supplied IC modules into the mainboard, or wire into a prototype for rapid prototyping
Reference design for IQS127 with user proximity & touch detection ability
LEDs indicate proximity AND touch to the button
Can be used in one of 2 modes:

Direct mode: Battery powered & output displayed on LED's
Data Streaming Mode: Powerful debug tool with graphical user interface. (EV-KIT requires Azoteq Configuration ToolCTxxx or Azoteq Data Streamer DSxxxnot included in the kit)

OTP bits can be programmed on the kit (requires CTxxx not included in the kit)
Download the IQS127EV02 User Guide
Download the IQS127EV02 Quickstart Guide
IQS127EV02 Kit includes:
1 x Mainboard PCB with keyed module board socket, selectable onboard button
1x Module PCB with IQS127D (TSOT23-6)
1x Module PCB with IQS127S (TSOT23-6)
1x Module PCB with IQS127D (TSOT23-6) configured in data streaming mode
Note: It is suggested to purchase the CT210x configuration tool (not included in this kit). This dongle allows rapid evaluation of the kit by interfacing with the free GUI of the IC.