Articles
Press Release
Azoteq Announces the IQS5XX-B000 family of Trackpad and Touchscreen controllers
October 7, 2015 - Azoteq, the world leader in proximity and touch solutions, announced the release to market of the IQS5XX-B000 family of Trackpad and Touchscreen controllers. The IQS5XX-B000 adds many new features to the very successful IQS5XX-A000 family. IQS5XX-A000 devices can be upgraded to the IQS5XX-B000 via the boot loader.

The IQS5XX-B000 family offers the best in class performance with scan rates up to 220Hz and a resolution up to 3584 x 2304. The IQS5XX-B000 family is optimized for battery applications with operation from 1.65v to 3.6V and 40uA operating while scanning in low power mode and less that 1uA in hibernation mode.
Designers can lay the row and column electrodes out in any order and in software define the electrodes to be in sequential order. The X and Y resolution can be configured independently and the orientation set to meet the application requirements. The IQS5XX-B000 devices can track coordinates for up to 5 fingers. The devices support 15 one and two finger gestures such as tap, scroll, pinch & zoom and two-finger scroll. All configuration parameters can be stored in NV memory on the device so that the device is fully functional after power up without a long setup procedure.
"The IQS5XX-B000 family was designed to offer maximum flexibility and yet make the PCB design and software as easy as possible for the designer," said Kobus Marneweck, VP of Marketing.
| | | | |
| --- | --- | --- | --- |
| | IQS550 | IQS572 | IQS525 |
| Maximum channels | 150 | 72 | 25 |
| Columns x Rows | 15 x 10 | 9 x 8 | 5 x 5 |
| Maximum resolution | 3584 x 2304 | 2048 x 1792 | 1280 x 768 |
| Minimum report rate | 100Hz | 170Hz | 220Hz |
Features:
Proximity, touch and snap on each channel

Multi-touch support up to 5 fingers

Scale, orientation and electrode layout selection

Fast I2C communications interface

ATI: automatic tuning for optimum sensitivity

Event and streaming modes

Internal voltage regulator and reference capacitor

On-chip noise detection and suppression

1 Finger gestures

Swipe right (hold)

Swipe left (hold)

Swipe up (hold)

Swipe down (hold)

Tap (hold)

2 Finger gestures

2 Finger tap (hold)

Pinch & Zoom

2 Finger scroll

2 Finger pan

3 Active and 2 low power modes

Proximity and pin wake up from low power

Proximity low power operation (<10uA)

Supply Voltage 1.65V to 3.6V
Applications:
Bluetooth headsets

Remote controls

Home automation controls

Keyboards with trackpads

Instrumentation
Pricing and Availability
Pricing for the controllers start at $0.90 for the IQS525-BL-QNR in quantities of 1K.
Samples and production volume are available from Mouser Electronics.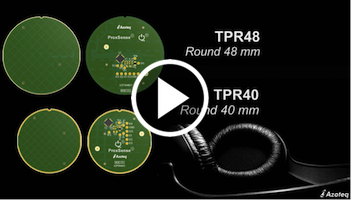 About Azoteq (Pty) Ltd
Azoteq (Pty) Ltd (www.azoteq.com) is the world leader in proximity and touch solutions for switches, sliders, scroll wheels and touch screens in consumer and industrial applications. Azoteq (Pty) Ltd has design and manufacturing centers in South Africa and China, and sales offices and distributors in South Africa, Asia, Europe and the USA.
IQ Switch®, ProxSense®, LightSenseTM, AirButton®, DYCALTM are trademarks of Azoteq (Pty) Ltd.
Editorial Contact & Interviews:
Kobus Marneweck
+1-512-538-1995
This email address is being protected from spambots. You need JavaScript enabled to view it.
Copyright © 2016 Azoteq (Pty) Ltd :: Sitemap