ProxSense® Capacitive Proximity & Touch Controllers
Azoteq offers Proximity and Touch controllers for a wide range of applications.
Azoteq's ProxSense® offers:
Sensitivity of 0.1fF – 100x more sensitive than competition

Signal to Noise ratio of 1000:1 (competition <30:1)

Only company that can provide robust proximity solutions

Integration – lower system cost

Robust – auto tuning of electrode, changing environment, water, grease & dust

Fundamental patents on proximity and touch wake up
Theory of Capacitive sensing
Capacitive sensors measure a change in capacitance (increase or decrease)

Human body, hand or finger acts as a capacitor

Proximity or touch by a human changes the capacitance of the system

Capacitance changes are small

Touch – 10 pico Farads

Close proximity – 1 pico Farads

Proximity – 50-100 femto Farads
Charge transfer – measures capacitance by transferring charge from sense electrode to internal capacitor

Inexpensive PCB pads to sense a touch or proximity event

No mechanical parts

Front panel materials – glass or polycarbonate

Buttons protected from harsh environments
Self Capacitance
Controller measures capacitance of the sense electrode relative to ground

One connection for each touch switch

Hand or finger adds capacitance to circuit
Mutual Capacitance
Controller measures capacitance between two sense electrodes

Two connections for each touch switch

Hand or finger subtracts capacitance from circuit
| | |
| --- | --- |
| Self Capacitance | Mutual Capacitance |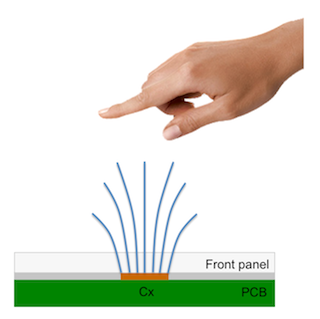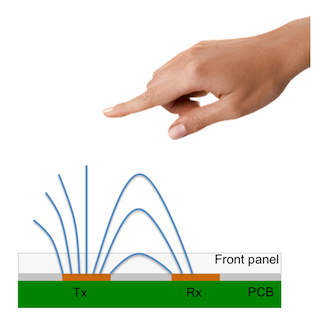 Azoteq has more than 39 patents issued and pending on capacitive sensors technology and the proximity and touch user interfaces.
Contact Azoteq for more information about capacitive proximity switches, download a datasheet, or request an evaluation kit today.
a b csar sensor, sar psensor, specific absorption rate, sar iqs128, sar iqs229, sar iqs263
Specific Absorption Rate, SAR, Sensor, Psensor